We are excited to announce a major update to LiveTime! Check out some of the new features below, and feel free to click on the links to learn how to use some of these new features as well!
What's New In 1.16?
1.)
System Time Window.
This gives you the ability to see your machines system time in its own window as a reference.
2.)
NDI Output.
With one in-app purchase, you now have access to
NewTek's Networked Device Interface for broadcasting video over IP.
3.)
Negative Tick
option for Timers. One of the most requested features is now here, once your clock hits zero, you now have a timer running with a negative tick in front of it. To use this, all clients need to be running version 1.16+.
4.)
Secondary timer
when you hit zero while in countdown mode. If you would like to have another looping timer of a second time once your countdown hits zero, this is for you!
5.)
Preview Preset
when using the "Simple" layout. With a click of a button, you can preview a preset when looking at the preset window in the "Simple" view.
6.) We added a slew of new buttons to the control bar at the top.
A.) Blank All: By clicking this, all timers and overlays are hidden with one click while letting the
timers continue to run.
B.) Start All Timers: If you have a time value in your Aux and Master clocks, you can click this
button to start them both simultaneously.
C.) Swap Timer: This button provides the ability to swap the location of the timer with the other
timer as needed.

7.) Master Enable / Disable of automation Triggers in the presets window. When triggers are created, they have a checkbox next to them for you to turn on and off yourself. Now with the Trigger Enable/Disable button located on the preset page, you are able to enable and disable ALL presets with one click. When your triggers are enabled a green box will appear around it. When your triggers are disabled, you will see an orange box appear around the trigger.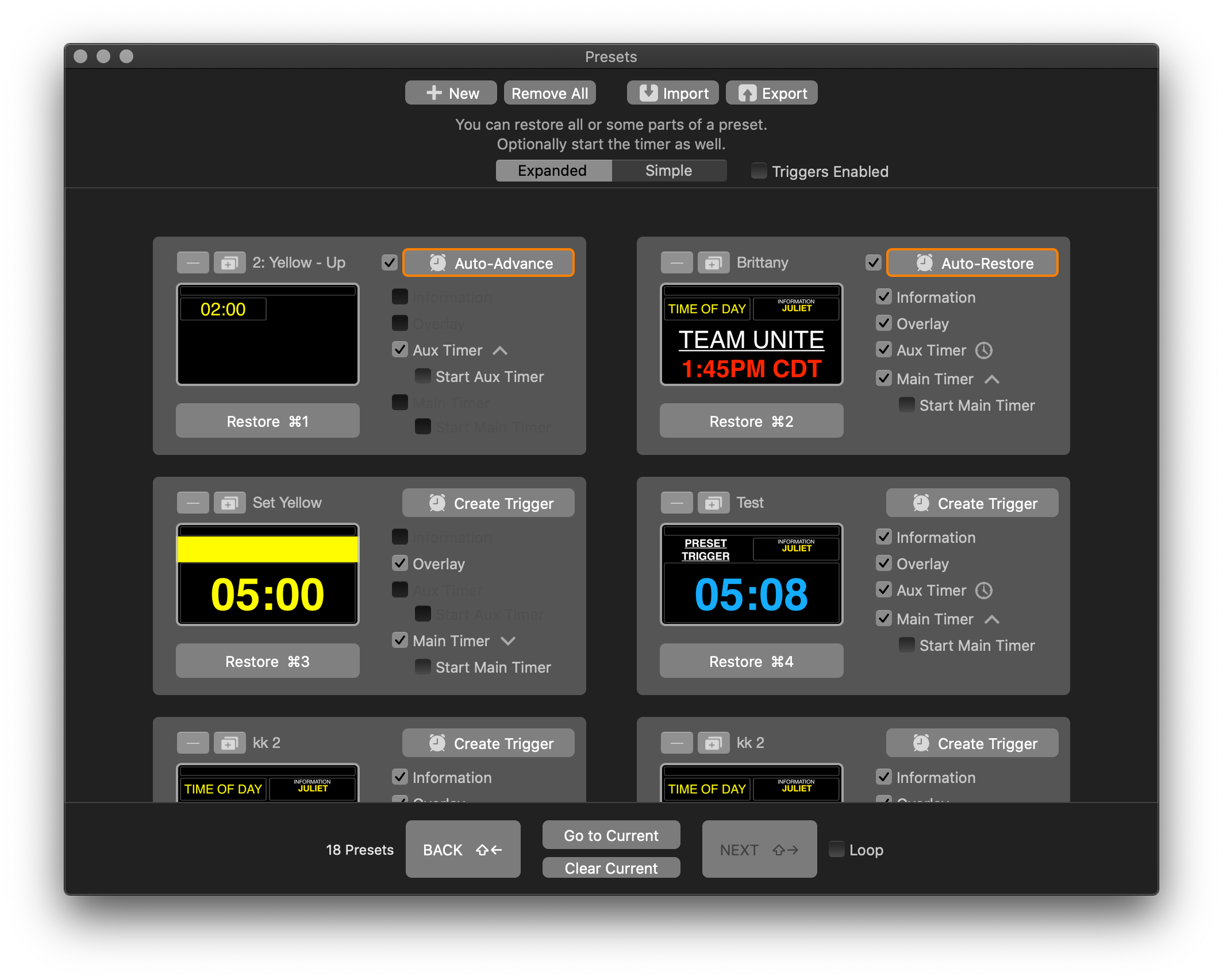 8.) We have added a green box if you are conncted to a clock and a red box if you are not connected to a clock around the clock output window when in landscape mode on iPhone.
9.) Major performance improvements when running 200+ Presets.